Bootcamps include numerous rounds of high-intensity intervals which, afterward, are combined with resistance training. Specifically, Peloton Bike Bootcamp integrates riding the bike and performing full-body strength activities off the bike into one session.
On September 15, 2020, Peloton began its journey of developing bootcamp workouts on the bike after merely targeting those on the tread for a long while. From then on, "Bike Bootcamp" of Peloton has been increasingly popular and, thus, is listed as a separate category.
This article will provide deeper insights into Peloton Bike Bootcamp classes. So, keep on reading if you want to learn more about how they can help with your weight loss and enhanced strength.
Does Peloton have Bike Bootcamp Classes?
Yes, it does. The Bike Bootcamp collection has been expanded at Peloton. With more than 200 classes, Peloton Bike Bootcamp fosters full-body functioning and optimizes fitness gains.
Being marked as 8.26 out of 10 for their difficulty, Peloton Bike Bootcamp classes ask you to not only practice with heavy weights but also promptly change your positions from the bike to the mat.
What Benefits do Peloton Bike Bootcamp Classes Bring?
Peloton Bike Bootcamp workouts offer undeniably outstanding advantages.
Bike Bootcamp classes can foster your mood, eliminate stress hormones and get you ready for other daily tasks (Moses, et al., 1989).
According to John Pocari, boot campers burn roughly 10 calories every minute, thereby aiding in weight loss as well as building lean muscle mass.
Research conducted by Nabilpour in 2018 showed that such boot camps could be regarded as an effective approach to treating elevated blood pressure with little risk.
Enhancing Cardiorespiratory Monitoring
Thanks to the incorporation of strength training into cardio sessions, Peloton Bike Bootcamp classes help to enhance the combined performance of both hearts and lungs (Mang et al., 2021).
Bettering Resting Heart Rate
In 2015, Piras, et al. revealed in some studies that such kind of circuit training restrains sympathetic exertion while boosting the dynamic balance between the sympathetic and parasympathetic neural systems.
How to Access Peloton Bike Bootcamp Classes?
Step 1: Go to the "Classes" section
Step 2: Choose "Bike Bootcamp"
Step 3: Click "Filter"
Step 4: Here, you can filter Peloton Bike Bootcamp classes based on type, instructor, music, and so on.
Peloton Bike Bootcamp Classes' Overview
Type
Peloton Bike Bootcamp classes are classified based on:
Instructor
Generally, Peloton Bike instructors are in charge of teaching Bike Bootcamp classes. Here are six names on the list:
Cody Rigsby
Cliff Dwenger
Robin Arzon
Jess Sims
Callie Gullickson
Tunde Oyeneyin
By designing more than half of the classes, Cody Rigsby has gained popularity in Bike Bootcamp and has become one of the most favorable instructors at Peloton.
Difficulty
Peloton Bike Bootcamp classes have three difficulty levels.
Beginner
Intermediate
Advanced
These levels allow Peloton members to participate in the most suitable sessions based on their experience in strength training and cardio, as well as their body needs.
Language
So far, Peloton has only built classes for these two languages:
Most sessions are instructed in English, leaving 7 of them being taught in German by Cliff Dwenger. However, with Peloton's continuous effort to embrace global diversity, it is expected that more classes in German and Spanish will be introduced soon.
Music
Eight different genres are available for Bike Bootcamp sessions.
Alternative
Country
Electronic
Hip Hop
Latin
Pop
R&B
Rock
Best Peloton Bike Bootcamp Classes
Though rock or alternative soundtrack for this lower-body oriented bootcamp is not exactly his vibe, Cody still managed to deliver the best of him and encourage practitioners to perform all the activities.
This bootcamp contains a full-body EMOM session set to the amazing music that practitioners really enjoy.
This session is hard, long, yet rewarding. Partaking it could help you gain more self-confidence and motivation in the end.
Other recommended classes for you:
Besides these top three classes, you can also refresh your workout routine with the following list of good sessions.
Equipment
Clothes play a remarkable role in your workout routine. Thus, you should choose something that wicks the sweat from your skin (polypropylene or blended fabrics) and is both firm and comfortable (e.g., cotton, polyester, and nylon).
Moreover, to participate in Peloton Bike Bootcamp sessions, you will need other equipment.
Spin Bike (

the Peloton Bike+ is highly recommended for better Bike Bootcamp experience

)

Light, medium, or heavy weights

, or a combination.
Resistance Bands
Shoes that are compatible with the Peloton Bike/Bike+
Terms You Need to Know Before Participating in Peloton Bootcamp Classes
AMRAP: As many rounds (reps) as possible. This term indicates that there is no limit to your number of rounds or repetitions as the number keeps growing when you improve.
EMOM: Every minute on the minute. When you hear this term, it means that you need to finish a set in exactly a minute and move on to the next one in the next minute, or else the amount of your rest time will be cut down.
Burpees: A squat thrust that starts and ends in a standing position.
Thruster: A squat that is followed by a shoulder press.
Conclusion
Peloton Bike Bootcamp classes are rated as one of the most high-quality ones. Moreover, it provides not only physical but also mental benefits. Therefore, if you ever get bored of cycling alone or want to add something challenging to your journey, these sessions would be a good choice.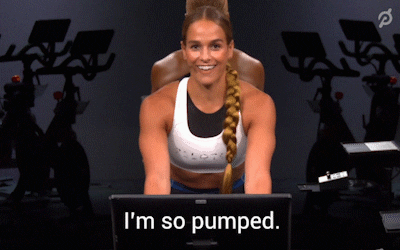 FAQs
1. Are there any Peloton Bike Bootcamp programs?
In general, Peloton has not designed any Bike Bootcamp program that lasts for a couple of weeks. Yet, with Peloton's constant attempts to diversify its library, you can still enjoy fresh and new classes every week.
2. If I do not have any suitable shoes, may I practice with bare feet?
It depends. As a whole, many people still partake in Peloton Bike Bootcamp classes with no shoes at all. Yet, if you want to do so, you will need to consider previous injuries, comfort level, as well as demand for extra support.
3. Can I join Peloton Bike Bootcamp classes without Peloton Bike or Bike+?
Peloton Bike or Bike+ will make your Bike Bootcamp sessions easier, but don't worry! Not owning one does not stop you from getting thrilled in them.
You can use any spin bike and stream the classes on other devices so that you can listen to all the cues Peloton instructors give. To do so, you will also need to register for Peloton App Membership (both all-access and digital membership).