The road bike is immensely getting popular each day. It is used in commuting, training, touring and leisure. But any road bike tire needs replacement at some point to ensure the performance. However, the question is: which road bike tires suit your bike best?
In the market, there are thousands or even millions of products for you to choose from. Quite dizzy, isn't it? To give you an insight of which tire is compatible with your bike, we would like to recommend these top 17 best road bike tire in 2021. Keep reading to discover with us!
Top 17 Best Road Bike Tires Reviews In 2021
Continental Grand Prix 5000 Road Bike Tires
Let's start with a high-end tire: the Continental Grand Prix 5000. It comes with two options: clincher and tubeless. It is considered to be the upgraded version of the Grand Prix 4000 that we all know and love.
But this Grand Prix 5000 is even better. It is light-weight, has good puncture-resistance, astonishing durability and rolling resistance. To reach the balance of grip strength and rolling resistance, the Black Chili compound was used.
This product also comes in different sizes, including the typical 700x25c. Every single tire is handmade and tested carefully by the German technologists, giving this tire a premium quality and a total recommendation from me.
Pros
Good price
Reasonable performance
Product Specs
See also:
Continental Gatorskin Road Bike Tires
If you are seeking for a high puncture-resistant tire, you may want to consider Continental Gatorskin. It has been in the market for a long time but is still highly recommended thanks to its excellent quality.
Continental claims that this tire has the best chance to coop with road hazards, and is designed for commuting and training purpose.
Gatorskin's compound is the durable carbon black mixture, allowing it to have a better performance in terms of durability and harsh weather condition. It's rolling resistance is not the best out there, but is still decent for a ride in the rain. In exchange, with Gatorskin, your road bike might be a bit slower, but it is totally acceptable.
Pros
High puncture-resistance
Suitable for training and commuting
Product Specs
Pirelli PZero Velo Road Bike Tires
If you are interested in a new product, you may want to get this Pirelli Pzero Velo. Recently entering the market with other brothers from the same manufacturers, it has caught the attention of many road bike riders.
I must say that it can be considered as a new high-end, all-rounded tire and can compete directly with the Continental Grand Prix line.
PZero Velo is truly a strong and all-rounded road bike tire. There is no complaint about its rolling resistance, puncture-resistant, weight and performance.
It is suitable for commuting and riding in the rain or in winter weather since PZero Velo has a really good grip. However, the high price and low speed may make you reluctant.
Pros
Good rolling resistance
Good puncture resistance
Suitable for rain and winter weather
Product Specs
Continental GP 4000S II Road Bike Tires
Any pros in bike racing or touring can not pass on this Continental GP 4000S II. This is the best and most popular product for road bike tires, earning its 5-star from its high-speed performance.
The good balance of rolling resistance, puncture resistance, weight and speed will not let you down. Definitely a strong tire for triathlon, tour and race bike.
Pros
High speed
Good performance
Good for racing and touring
Cons
Not the best puncture-proof
Product Specs
SCHWALBE Durano Road Bike Tires
A strong tire in the medium-price class worth mentioning is the Schwalbe Durano Black Wire Bead Tire, an upgrade version of the 2015 Durano.
Falling into the middle-end, I believe this road bike tire will work wonder for any ride on the wet and cold road. So Durano Black Wide Bead is the ideal choice for rainy season and training on slippery surfaces.
This light-weight, all-season tire does have its weakness: the puncture resistance is not really the best. But the durability and rolling resistance can make up for the rest.
To conclude, I think this tire is a wise choice for bike trainer and anyone who want safe rides in all weather.
Pros
Affordable price
All-weather compatible
Good grip control and rolling resistance
Product Specs
Vittoria Rubino Pro Road Bike Tires
Vittoria tires have never gone out of style. This product is one of the very first mid-end tubeless road bike tires, with a new Graphene compound to make it stronger and last longer.
This works really well on the wet surface, Vittoria improved the grip control of this tire line so it can be used for rainy weather. However, the puncture-resistance and rolling resistance do not really impress me, it's just a so-so for these criteria.
However, if you are looking for a tire with wet-grip and long mileage, I would still recommend this one
Cons
Unimpressice rolling resistance and puncture resistance
Product Specs
MICHELIN Power Endurance Road Bike Tires
The very first Michelin tire featured in this list is the Power Endurance, one of the most recent lines of this brand. This tire has good puncture-resistance, grip, and durability – a versatile choice for commuters and racers alike.
Even though the rolling-resistance of this tire is not on par with some other products from the same brand, but it is still good.
In the high-end range, Michelline Power Endurance is still a yes for any fan of Michelin. The performance of the Power Endurance tire is indeed powerful and long-lasting.
Pros
All-rounded tire
Good durability
Cons
Not total puncture-resistance
Product Specs
Vittoria Corsa G2 Road Bike Tires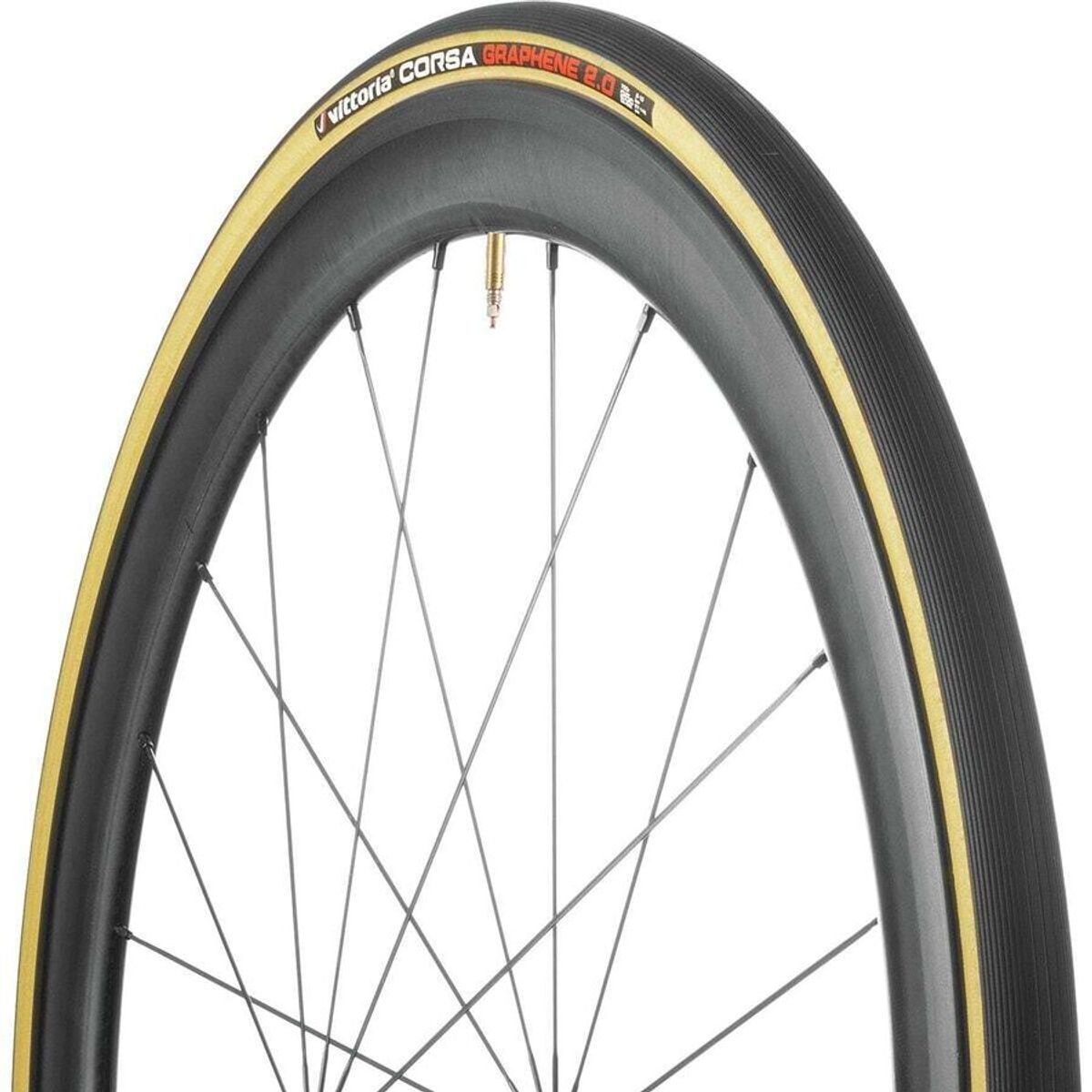 Another representative from Vittoria in this best road bike tire list is the Corse G2, made of the new  Graphene compound. Vittoria said that they improve the durability, grip control and rolling resistance on this tire line. And they did their work.
This cotton tire is light-weight and has better rolling resistance than the old version. Other criteria like durability and puncture resistance are decent for a high-end tire, but maybe not the best 5-star pricey road tire.
Pros
Good rolling-resistance and durability
Cotton type
Cons
Medium puncture-resistance
Product Specs
SCHWALBE One Folding Road Bike Tires
Schwalbe One Folding tire may be the one you're looking for. Strong, high-speed and puncture-free, this tire is considered to be an all-rounded and racing product. Especially if you want a tire that can work well under the rain, definitely you should take a look at this.
However, this One model has some flaws: it's not quite eye-catchy, personally I believe it was because it was introduced a long time ago. But if you are into the vintage tire, Schwalbe One can be a good choice.
Besides, some of my friends claim that the durability of this tire is not as good as other peers, so buyers should consider carefully.
Pros
High speed
Good puncture-resistance
Product Specs
Continental Grand Prix 4-Season Road Bike Tires
Coming from Continental, but this Grand Prix 4-Season does not have the familiar Black Chilli compound. It is made of the "Max Grip" compound, allowing it to be one of the best all-season tires. Good grip and rolling resistance, Grand Prix $-Season rides well under the rain or in the winter.
This is truly a strong tire, the durability and puncture resistance are simply outstanding. This one is definitely a 5-star for commuting, racing and triathlon alike.
Pros
All-rounded tire
All-season tire
Product Specs
MICHELIN Power All Season Road Bike Tires
Seeking for the king of safety on wet surface and good grip? Micheline Power All Season must be it. The excellent grip of this tire makes it possibly one of the best tire for all-season in the high-end range. The puncture-resistance and mileage are pretty good too, so it will be a good choice for any road bike rider.
But the rolling resistance of this tire does not meet my expectations. It is understandable since the manufacturer pushes the grip level higher up.
In conclusion, this is still a good tire for road bike riders going with the motto: "safety first".
Pros
Good grip
Guaranteed safety
Product Specs
Brand
Michelin
Model

Power All Season

Year

2016

Price Range

High

Compound

Grip compound

Bead

Folding

Max Pressure

109

Made In

Thailand

Available Sizes

23-622 (700x23C)




25-622 (700x25C)




28-622 (700x28C)
SCHWALBE Marathon Plus Road Bike Tires
This road bike tire here is the all-time best-seller of Schwalbe – the Marathon Plus HS 348. It can easily be the best tour bike tire with great performance, high puncture resistance and good grip control.
The SmartGuard technology allows this tire to be puncture-free and flat-less, extend its lifetime and upgrade its performance.
Even though it is quite heavy, the quality of this tire is undisputable. I tried it and love the feeling of riding a road bike with it. This is my recommendation for touring, triathlon and racing bike tire.
Pros
Good for touring and racing
Puncture-free, flat-free
Product Specs
Schwalbe G-One Road Bike Tires
Talking about the tubeless type, we can't miss the G-One Speed tire. Like its name, this tire rolling on the road quickly and smoothly, giving you the most enjoyable ride ever. The puncture resistance and rolling resistance of this tire meet my expectations, making the ride on the hazardous road less bumpy.
Although Schwalbe claimed that it is light-weight, G-One Speed is actually not that light. But given the performance, this tire really worth the money you pay for it. Personally, I think commuters and racers will love it alike.
Pros
Good puncture-resistance and rolling-resistance
Good grip
High speed
Product Specs
Continental Contact Speed Road Bike Tires
Not the classic, vintage tour bike tire, but Continental Contact Speed will make you awe. It falls into the mid-end range, but the quality is of the top. You will get a speedy, smooth ride without any puncture and rolling problems with this star here.
Its tread pattern is quite unique compared to other tour bike tires; Continental uses a diamond pattern for Contact Speed. But well, the performance and quality of this tire have nothing to complain about, maybe a little bit heavy?
Pros
Good price
High speed
Good puncture resistance
Product Specs
WTB ThickSlick Road Bike Tires
Let's end this list with a sweet-to-the-wallet tire, and the only WTB tire makes way into this top 2021 road bike tires: the ThickSlick Comp. It is designed to target the low-end crowd, for example, students and commuters, but the quality is quite surprising.
It's going on smooth and quick on the road, with decent puncture-resistance and rolling resistance. Of course, on these criteria, it cannot be compared with the Continental Grand Prix line, but it excels the majority of cheap tires.
I would say this tire is an economical choice for all-season commuters and training bikers. The longevity will be a good compensation for the so-so performance. Besides, there're some cosmetic problems on the side and the weight is heavy but can be understandable. You can't have all the good things at once.
Pros
Good price
Decent performance
Good durability
Product Specs
The Ultimate Guide To Choosing Best Road Bike Tires In 2021
Road bike tire size
There are 4 sizes of bike tires in general, and you must get the right size for your bike to work. The size is written down on the side of the tire, so check out yours before going shopping for a new one. There will be 2 numbers.
Road bike diameter: The first one is the tire diameter. For road bike tires, typically it will be 700mm.
Road bike width: The second one is the tire width. The diameter must be exact, but you can get away with a little variation in width. The majority of road bikers would choose the 25mm, but the other options could range from 23mm to 45mm.
However, if you find the number 25-622 – the ISO number – instead of 700x25c on your tire, don't worry, they mean the same.
Tread patterns
There're a lot of tread patterns, but you should choose based on your intention. For a road bike, three choices are recommended:
Slick bike tires
Semi-slick bike tires
Inverted tread tires
Bike tube and valve
These can be minor but should not be neglected. Bike tube size should be compatible with your bike tire. Also, there are Presta valves and Schrader valves. Presta valves are tiny, while Schrader valves won't fit a Presta rim. You should mind this before buying a new tire.
Other bike tire types
Apart from the traditional type, there are a lot more:
Tubeless bike tires: the type that will upgrade your bike performance, allowing a smoother ride.
Puncture-resistant bike tires: this tire will decrease the chance of your bike getting punctured and going flat.
Foldable bike tires: lighter and easier to carry around, but it is also more expensive.
Studded bike tires: suitable for a winter ride and slippery road.
FAQ
What are the best puncture resistant road bike tires?
If  you are seeking for bike tires that can minimize the chance of getting punctured, you can check out some of these recommendations:
Continental Gatorskin Tire
Hutchinson Intensive Tire
Vittoria Zaffiro Pro III Tire
Maxxis Re-Fuse Road Bike Training Tire
How many miles should road bike tires last?
Mileage of bike tires can be different, based on the types of tires, road conditions and other factors. But in general, road-bike tires should last between 1000 and 3000 miles.
Expensive tires are expected to be good to go at least for 2500 miles.  Racing tires – under the frequency of working and the speed of racing cars – may last around 1000 miles. However, tough tires can be used for around 4000 miles with good road conditions.
Are puncture-proof tires any good?
Nothing is more uncomfortable than your tires getting poked a hole in the middle of the ride. So, puncture-proof tires can help you minimize these bad luck.
However, there is a compromise here: the puncture-proof tires usually use denser and harder rubber or add a protective layer, as a result, the tires are heavier. Therefore, if you want protection against puncture, you have to accept a slower ride.
What PSI should my road bike tires be?
The right PSI of your tires will make a smoother ride. Depending on the weight of the rider and types of tires, tire pressure can vary, but generally, 80 – 130 psi is for road tires, 25 – 35 psi is for mountain tires and the hybrid type needs around 40 to 70 psi.
However, each tire has a PSI recommendation from the manufacturer on the sidewall, you should not exceed that number.
How often should I inflate my bike tires?
Because the air in tires naturally and gradually loses out, you need to check your tires regularly for pumping when the tires go soft. it will help you have a more enjoyable ride, as well as avoid most of the tire damages.
The frequency for tire inflation should be in accordance to tire size and pressure. Riders are advised to check bike tires before going out and inflate road bike tires every week for the least; fortnight for hybrid tires and mountain bike tires for two or weeks each.
Why does my bike tire keep deflating?
Bike tires keep going flat, and it's the most annoying ever. There are a lot of reasons why bike tires lose air, some of the most common causes are:
Puncture and road hazards
Failure or damage in parts of the tire (rim, tire liner, valve stem, etc)
Worn and ripped tire
Natural leak
Overinflation
And furthermore.
Why do road bike tires lose air?
You may notice that sometimes your bike tires lose air gradually. It can be the result of some wheel issues, tire damage or temperature change. The wheel can either get a poor valve stem or deformed due to road hazards, which will lead to air leaking.
Besides, objects on the road can pierce into the tires and cause damage, or the weather can take away some of the air in your bike tires – estimated 2% out for each 10°F decrease.
How do you inflate without a pump?
The easiest way to inflate your bike tires is by using a pump, but if no pump is available when you need your bike tires ready for a ride? Don't worry, you can still use the CO2 cartridge or manually pump up your tires.
For the CO2 cartridge, you need to either screw or insert the cartridge's neck into the nozzle first. Depending on the amount of air left in your tire, you should let the air flows in by opening the nozzle a bit (for completely flat tire) and check if your tire is in its right place.
Then, open the nozzle and let the cartridge do its work. Finally, close the nozzle and put your tire properly back to the wheel.
If there is no other way, you can just pump your tire up with your mouth. Wipe clean the valve and start blowing air into your tire. Your tongue should press on the valve to let the air in. It will be slow and troublesome to fully inflate your tires like this, but I'd rather do it than ride with a flat tire.
What is the most puncture-resistant bike tire?
As tested in the lab, the most puncture-resistant bike tires now available are:
 Vittoria Randonneur
Schwalbe Marathon Plus
Continental E.Contact
When should I replace my road bike tires?
Replacement of road bike tires should be done when the tire reaches 1500 to 3000 miles on the ride, and the back tire should be changed earlier than the front tires (due to the large pressure). However, if your road bike tires show these sign, you should think of buying new ones:
Worn down tread
Flat spot along the center of the tire
Cracked rubber on the bike tire
Constant flats
Cuts and holes
Worn down to the casing
Bubbles or deformities
And that is also the end of our review for the best 17 road bike tires in 2021. We hope that by now you have found the best and most suitable tire for your road bike. Good luck on the road, and stay tuned for more informative articles coming up next!