To beginners in bike riding, bike computers seem to be unfamiliar, but to the pro, they are basic necessities. Also known as cyclo-computer, speedometer, cycle computer, or cyclometer, it is an attachable device used to record data from the rides. It can measure your speed, heart rate, or display your route information.
If you are thinking about getting a bike computer, but are still unsure which is the best for you, please keep on reading. Because now we will introduce the top 22 best speedometers of this year, 2021!
Most Viewed Posts:
Top 22 Best Bike Computers and Speedometers Reviews In 2021
CAT EYE  Velo 7 Bike Computers
Let's start with the cheapest item: the CATEYE Velo 7. This is the most basic functions and dirt-cheap speedometer that will work on road bikes. It provides speed, time and distance data, so this bike computer is only suitable for beginners. You should notice that this will not work on mountain bikes.
Product Specs
CAT EYE  Padrone Wireless Bike Computers
A bit higher at price is the Padrone Wireless, coming from the same CAT EYE brand. Unlike Velo 7, this one is wireless, so the setup and attachment of this bike computer are much easier.
However, it is still a non-GPS device. I highly recommend this one only for beginner and occasional bike riders, since it provides the basic data and is not compatible with long rides.
Pros
Easy to set up and attachment
Cheap
Lightweight
Cons
No GPS, Bluetooth or ANT+
Product Specs
CAT EYE  Velo Wireless Bike Computers
Still an affordable speedometer from CAT EYE, the Velo Wireless receives good comments on its precision, slim model and easy setup. Just like its other brothers, this bike computer can only measure time, speed and distance, but its accuracy is no less than a high-end Garmin device.
If you are new to road bike riding and do not want to burn a hole in your wallet, let's choose Velo Wireless to start your ride. But of course, at such a cheap price, you can't expect a built-in GPS or whatsoever.
Pros
Cheap
Easy to use
Good accuracy
Cons
No GPS, Bluetooth or ANT+
Product Specs
Wahoo ELEMNT Mini Bike Computers
Along CAT EYE, Wahoo is also a manufacturer providing affordable but high-quality speedometer. The ELEMNT Mini Bike Computer is a lightweight, easy to attach and use and surprisingly great water-resistant.
It can be used to navigate and record routes with smartphone GPS – a big bonus point for such a cheap price. But still, it can only provide basic data, making it unsuitable for training and pro bike riders.
Pros
Lightweight
Easy to use
GPS compatible
Cons
Can't connect to a third-party sensor
Product Specs
GARMIN EDGE 520 PLUS Bike Computers
Now, let's jump to the high-end range. One of the most famous and loved models from the trustworthy Garmin, the EDGE 520 PLUS bike computer will satisfy even the pickiest bike riders. It is considered to be the updated and more powerful version of the EDGE 520 with everything you need.
The color screen is vibrant and easy to use, as well as the quick setup process. Hence, the startup of this speedometer is a bit slower comparing to other pricy products, but it does not affect the performance in my opinion.
This bike computer is compatible with Strava, can pair with ANT+ sensors and smartphones via Bluetooth. Built-in GPS allows users to track, record the route and navigate easily. The accuracy of data is simply outstanding. You can also transfer your data only to get your training analyzed quickly, so this is great for bike trainers and coaches.
Pros
Small and quite lightweight
Easy to use
Color screen
Suitable for trainin
Product Specs
Wahoo ELEMNT Bolt GPS Bike Computers
A competitor to the Garmin 520 is Wahoo ELEMNT Bolt GPS bike computer. This little but powerful cyclocomputer will give you accurate data, exact route navigation and so on. Even though it is not color-screened, but it is super easy to use. The battery life is exceptionally good – 15 continuous hours, so you can rest assured when going for a long ride.
You will have to pair ELEMNT Bolt with and IOS or Android phone to perform all its functions though. A little bit more step, but the experience with this speedometer will make you happy.
Pros
Good battery life
Easy to use
Map provided
Cons
Require pairing with a smartphone
Product Specs
SY Bike Computers
For anyone seeking a reasonable water-resistant cyclo-computer, you should definitely check SY Bicycle Speedometer and Odometer out. It is easy to set up and use, the data measurement is quick and acute. It can be attached on your bike really easy, and if you are into vintage, basic-looking and basic-functioning bike computer, you will love it.
For such a cheap price, it does everything it is asked for. But, I would only recommend this for short-trip, occasional riders, and beginner, because it is not GPS, Bluetooth or ANT+ compatible.
Pros
Easy to set up and use
Great accuracy
Cheap
Cons
Not GPS, Bluetooth or ANT+ compatible
Product Specs
ICOCOPRO Bike Computers
ICOCOPRO has changed the bike computer market with such an interesting feature: solar panel, allowing it to self-generate the energy needed. So, it means that you don't have to worry about battery life, as long as you have a couple of riding under the sun.
The display screen of this one is quite large and easy to use, and it offers quite a lot of other functions besides measuring data, such as auto sleep and day-night backlight. What is more, it comes at a bargaining price that will be suitable for beginners and commuter bike riders alike.
However, the instruction for setup and attaching is quite confusing and takes me a long time to figure out how to use this product. And the sensor can be temporarily out of work sometimes – a big annoying thing.
Cons
Hard-to-understand instruction
Product Specs
MEILAN Bike Computers
The only product of Meilan made its way into this list is the M4 ANT BLE4.0. This is a good choice for bike trainers who are a bit tight on the budget. And it can be used on a wide range of bike types, whether it is a road bike, touring bike or mountain bicycle. All the data you needed to keep track of your training will be well displayed and collected with great accuracy.
However, it has the same problem with the ICOCOPRO: poorly-made instruction. It takes me tons of time and effort to set this up. And although it has Bluetooth, it is not supported by the data-transferring app. So, a decent but not versatile bike computer, I assume.
Pros
Cheap
Compatible to various bike types
Cons
Confusing manual instruction
Product Specs
Garmin Edge 830 Bike Computers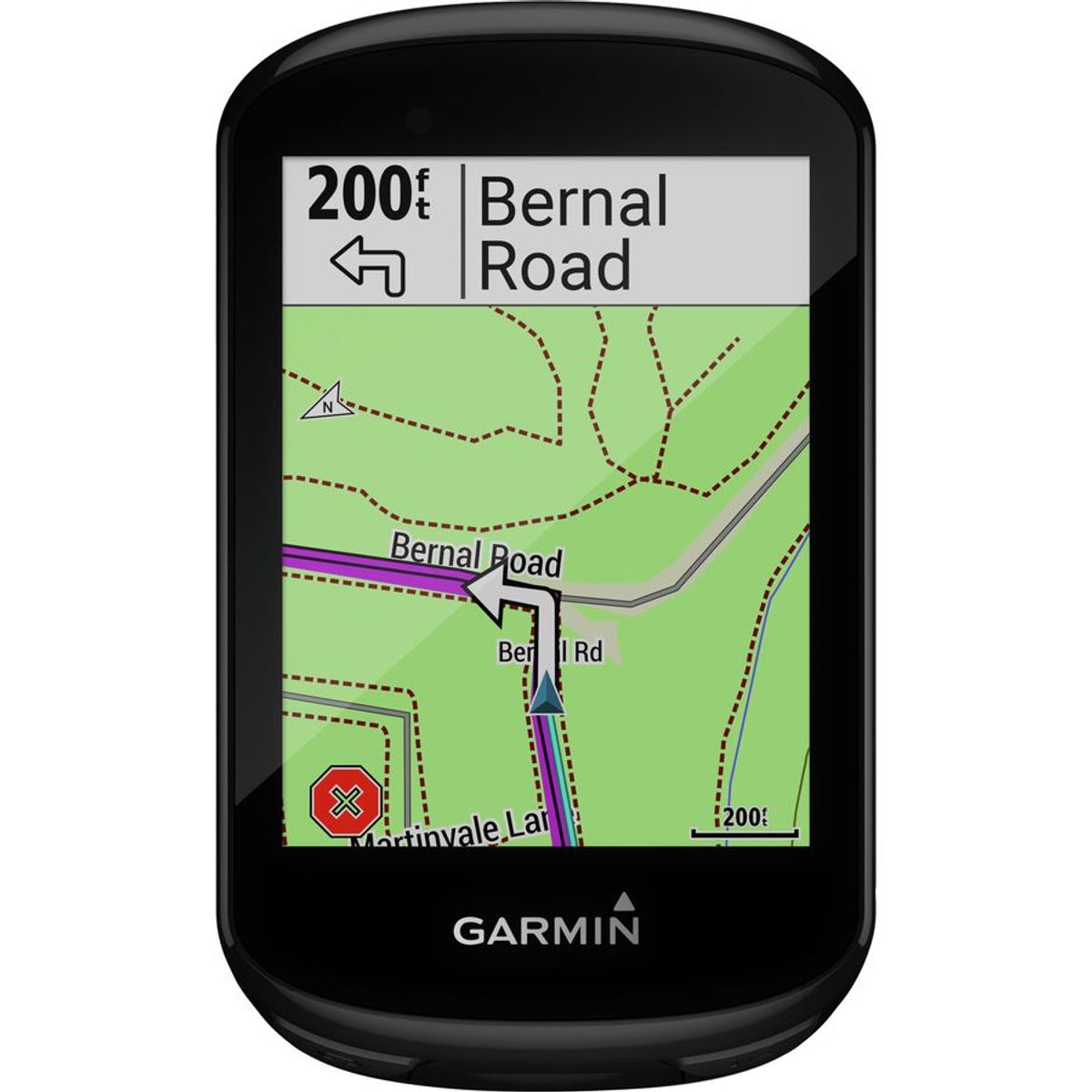 Any die-hard Garmin fan would fall for this model – the Edge 830. Sleek and stylish design with touch screen to upgrade your experience, Edges 830 has eliminated most of the problems with the touch screen of those previous models. You can now use this easily even under the rain.
Just like other Garmin models, there is nothing to complain about its performance. The setup process was a piece of cake, the sensor is acute, and this bike computer runs smoothly in general. I believe that professional trainers and coaches will love this little guy.
Pros
Good touch screen
Good performance
Product Specs
Garmin Edge 1030 Bike Computers
The money you pay for a Garmin is never small, but it is always worth it. The Edge 1030 is such a good product on the high-end range. The large display screen allows you to work effortlessly, even under bad weather conditions. It is also compatible with most of the app, connection and navigation systems available now, so the versatility is indisputable.
However, it is quite bulky and heavy – over 100g, so it can feel a bit unnatural on your bike. But for such a great performance, I would not mind carrying a few more grams on the ride with me.
Pros
Good performance
Good and large touch screen
Easy setup
Product Specs
DINOKA Waterproof Wireless Bike Computers
If you want to invest a small sum of money, but don't know which one to pick, Dinoka Waterproof Wireless bike computer can be a good choice. It is adaptable to a wide range of bikes: road bike, mountain bikes, folding bike, common bicycle, and pit bike/dirt bike, so you can use one for all riders. For such s cheap price, it does the job of collecting and displaying data wonderfully.
But, manual instruction is definitely giving me a hard time. So, just put it away and try to set it up on my own. And the durability is not the best, so let's just take it on short routes.
Pros
Cheap
Multi-bike compatible
Cons
Confusing manual instruction
Product Specs
ELEMNT GPS Bike Computers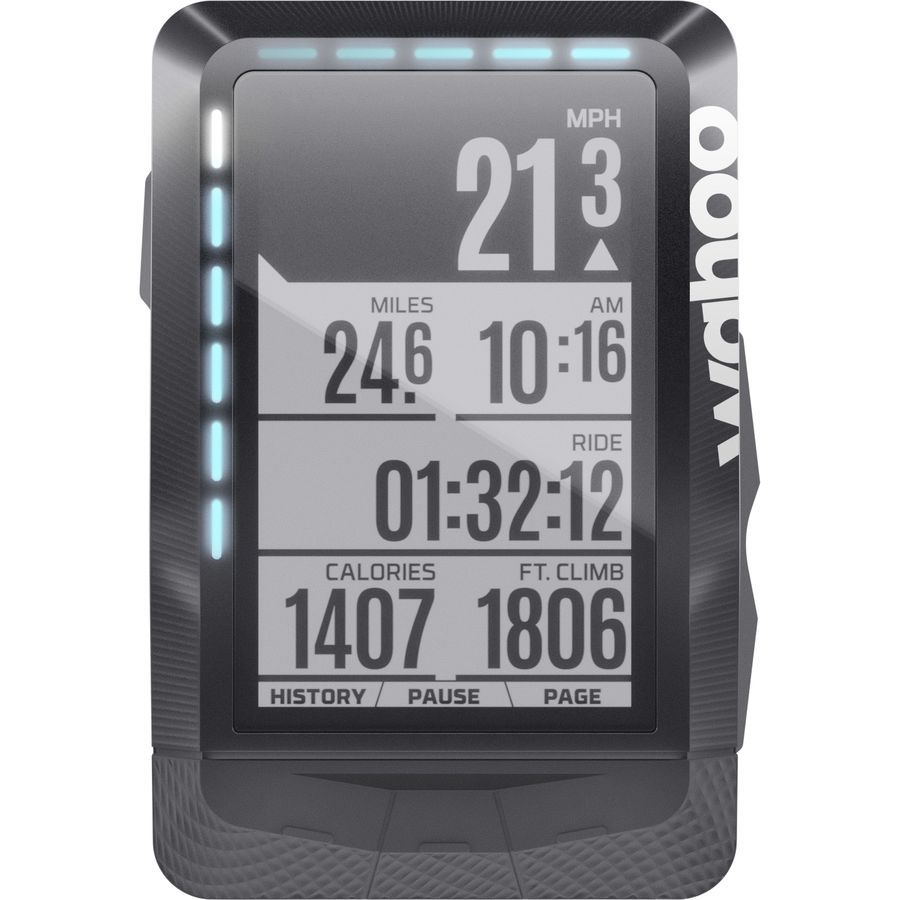 This built-in GPS bike computer emphasizes on accuracy and performance. This ELEMNT GPS bike computer is good for a long route ride. You can track multiple data, including in-depth ones required for training like cadence, power, heart rate and so on with is little gear. The screen is large and nice to interact with, too. You can also charge this on the fly, so it will keep you accompanied for all the rides.
However, the top buttons of this speedometer is a bit hard to press. And the screen is only black and white, not really appealing to me. And you should mind that it has no map display, so it can be inconvenient sometimes.
Pros
Good performance
The battery can be charged on the fly
Accurate data
Product Specs
LEZYNE Mega XL GPS Bike Computers
The newest product from Lezyne, the Mega XL GPS is one of the most modern and practical bike computers among all. The massive battery life, which lasts up to 48 hours, is the strongest point of this model, allowing you to ride without worry. The display screen has a nice touch to it, also offering offline maps and GPS navigation.
It is also compatible with Bluetooth and ANT+, so you can record, store and upload your data online and wireless. It can measure most of the data needed for serious training. And the price, even though the price range is high-end, it is not as expensive as Garmin device, while still offering great performance.
Pros
Long-lasting battery life
Good display screen
Offer offline maps
Product Specs
Garmin Edge 25 GPS Bike Computers
Garmin does not only provide heavyweight, massive bike computers, but it also has a pocket-size, lightweight speedometer like the Edge 25 Cycling GPS. It is a good and durable bike computer for beginners and riders requiring only basic data.
Although it looks small and simple, it is still a built-in GPS device, so you can navigate easily on your routes. And the price is within the mid-end range, so this simple but useful speedometer is my recommendation for anyone loving simplicity.
Pros
Lightweight
GPS navigation
Cons
Don't support direct file uploading
Product Specs
Planet Bike Protégé 9.0 Bike Computers
Another back-to-basic speedometer is the Planet Bike Protege 9.0. From my experience, the display screen is nice and smooth with 4 types of data recorded at once. It is also lightweight and durable, so it can accompany you on an everyday ride.
However, there is no GPS whatsoever built on this bike computer, so you can not navigating with this product. But the price is too sweet and the performance is too good to refuse this gear.
Product Specs
POLAR V650 Bike Computers
Speedometer can be hard to use for newbies, but this Polar V650 ensures that users at the entry-level can enjoy its functions without any difficulty. The screen is large and the data is nicely displayed, allowing you to have the best support from this speedometer.
Also, GPS is built in this bike computer, so you can easily navigate on the road. However, it is not ANT+ compatible, so you may not be able to transfer and upload your data online. But in general, this is a good investment for beginners.
Pros
Good performance
Good display
Easy setup
Product Specs
LEZYNE Enhanced Super GPS Bike Computers
Another GPS bike computer that you could not possibly miss out is the Lezyne Enhanced Super GPS. This model can pair with android and IOS smartphones to receive the message and call notification, helping you keep up with e world while on your ride.
Even though it is not the most lightweight, but it is still lighter than most of the multi-functional models, and can provide precise data for training and pro athletes' workout. The display screen has a certain number of modes, so you can choose to customize up to your liking. However, you should know that this does not provide a preloaded map, so the navigation ability of this model is not a strong point.
Pros
Multi-mode screen
Lightweight
Good performance
Product Specs
Garmin Edge 820 Bike Computers
Garmin products will never let you down. The Edge 820 is regarded as the holy grail of bike computer, due to its versatility and powerful performance. It is a multi-functional speedometer with preloaded maps, accurate data measurement, and storage. You can easily transfer your data with this gear because it is compatible with most of the online platforms for bike riding data.
The layout of this bike computer's screen should also be highly appreciated. It is super user-friendly, even for beginners. The only problem with this model is the price. But for such a good performance, I am willing to pay for it.
Pros
Good performance
Lightweight
Good display
Easy to use
Product Specs
LEZYNE Mini Bike GPS Computers
A tiny but strong bike computer from the Lezyne is the Mini Cycling GPS Computer. It is compact and ultra-lightweight, barely reaches 30g, but still offering you all the data you wanted.
It has GPS to get the navigation done smoothly and support Strava so you can upload all our data online. But it is obvious that the screen is small, so it can be hard to read the displayed data for bike riders with poor eyesight.
Pros
Lightweight
Compact
Strava compatible
Product Specs
Mio cyclo 505 Bike Computers
Mio Cyclo 505 Cycling Computer is a fancy, colored display screen that will provide you in-depth and all-rounded data from your trip. It can be integrated with a smartphone and can work well regarding navigation. This bike computer also has preloaded maps, so it is really convenient for long-distance bike riders.
However, it is quite bulky and heavy, so it can add a little more weight to your handlebar. Besides, for the map function, it is not supported in some regions. But still, this is a great device to invest in.
Pros
Great performance
Colored screen
Preloaded maps
Cons
Unavailable maps in certain regions
Product Specs
Pioneer Sgx-Ca600 Bike Computers
If the colored screen is not enough for you, here it is, the Pioneer Sgx-Ca600 Bike Computer which supports colored map! With such a feature, the navigation will get better and easier for the riders. This model also offers a power sensor with a real-time pedaling efficiency metric – a really unique and desired data in serious bike training.
The design and layout of the screen are simple to understand and to interact with but never lost its beauty. Pioneer is heavily focusing on the functions and accuracy of these models, so this bike computer excels in every aspect. It is retailed at a high-end price, but trust me, it is totally worthy.
Pros
Good performance
Colored maps
Power sensor
Product Specs
The Ultimate Guide To Choosing Best Bike Computers and Speedometers In 2021
There are various bike computers and speedometers available on the market. So, how to choose your right device?
Bike computers' type
Basic bike computer: these are cheap, no GPS and no data transferring speedometers. Generally, they can only provide basic information such as distance, time and speed of the ride.
GPS and ANT+ enabled bike computer: on the higher range, we have speedometer with GPS and ANT+ receiver, allowing you to collect and transfer data: power, speed, heart rate, cadence, distance, elevation, time and map. These bike computers are generally compatible with Strava to help you keep up with your training and others'.
GPS enabled bike computers with Bluetooth: with Bluetooth, you can connect your speedometer with your smartphone to manage your data and uploading directly online to get analysis without the need for a cable.
GPS or non-GPS speedometer
If you want to keep track of your ride data and navigate while cycling, you should choose a GPS enabled bike computer. But if you only want the basic information and know your route very well, you may think of non-GPS bike computers to save some money.
Sensor compatibility
Talking about sensor compatibility is talking about ANT+ speedometers. If you are in serious training and want to track your fitness data, sensor compatible bike computers are a must. You can get heart rate, speed cadence, and meter information with ANT+ to help with your training.
Map tracking
Not every GPS enabled computer provides a routable map. Some only have general navigation, but some speedometers offer precise and displayed riding routes. Of course, that map tracking bike computers are much more expensive, but you will know exactly where you are and which direction you are heading to on an unfamiliar route, which means you will never get lost – a worthy investment, I may assume.
Bluetooth
Bluetooth enables bike riders to connect and communicate your smartphone, which means you can receive messages, call and live tracking on the ride. You can upload and download your data wireless – no cable required, so it is really convenient to keep track of your ride every day. Your fellows and family can even know where you are going and will get notified in case of an accident. But remember that Bluetooth service can only work well with good phone reception, so riding on routes with poor reception will make Bluetooth pretty useless.
Touch screen
The touch screen is an upgraded feature of high-end and mid-end speedometers. You can interact with your device more enjoyable. It is much easier to touch on screen than press buttons while riding, and more comfortable for smartphone-users.
However, the touch screen does have its weakness: water. Most of the touch screen is not completely waterproof and can break down under continuous and intense exposure to water. And touching your screen under the rain is not a good thing, based on my very own experience.
Mounting systems
When you use a speedometer, you will look at your device continuously during the ride, so the position of mounts is of major importance. Out-front mounts attached to the handlebar will minimize the risk of having to divert your eyes from the road to look down on the screen, improving safety for the ride.
Heart rate sensor
The majority of ANT+ compatible bike computers also provide heart rate sensors to collect your heartbeat data. You can either get a Garmin, Wahoo Fitness or Lezyne heart rate strap, they are the best productions on the market in my humble opinion.
Speed and cadence sensors
Along with heart rate, speed and cadence measures are required in most of the bike training. You can use GPS to track down your speed of course, but a sensor is much more accurate. Meanwhile, cadence, or the rotations per minute of the crank arms, can only be measured by a sensor. ANT+ sensors are widely used for collecting these data.
Magnet and magnetless bike computer
The conventional type of speedometer is the magnet sensor. This sensor relies on a spoke mounted magnet to calculate speed and a crank arm mounted magnet to measure cadence. Basically, this sensor attachment process is quite harder than the magnetless fellows.
A lot of manufacturers have introduced the magnetless sensor, which is more user-friendly, for example, Garmin and Wahoo Fitness. These are easy to use, attach and compatible with any type of bike. However, magnetless sensors are typically more expensive than magnet ones.
Power meters
The duty of power meters is to measure the accurate power output of the rider's performance in watt units. This is a key data for training since it is more consistent and provides more information on the progress of the training. Normally, power meters are attached to the cranks, rear hubs or pedals.
FAQs
What is the best budget cycle computer?
These are some of the best budget cycle computers – all around under 200$:
Sigma Sport BC8.12
Polar M460
Garmin Edge 820
Bryton Rider 310C
Cateye Strada Wireless
Shanren Raptor
Suaoki Wireless
Planet Bike Protege 9.0
Cateye Velo 9
Ranaico Wireless 546C
What bike computers work with Strava?
We recommend these five bike computers that are compatible with Strava:
Garmin Vivoactive 3
Polar M430
Fitbit Versa
Samsung Gear S3
Apple Watch Series 3
Do I need a bike computer?
Considering its benefits, if you are a road bike rider, you will need one:
Good battery life so it won't die in the middle of anywhere along the ride.
Good durability so it will last for a long time
Utility. Of course, a bike computer is designed to provide all the information you needed with great precision.
What is the latest Garmin bike computer?
The latest model of Garmin is the Garmin Edge 520 Plus.
How accurate are bike computers?
On average, bike computers' accuracy is superb, with the error rate at around under 3% – a minor number. They are no less accurate than GPS or smartphone.
What is the best bike speedometer?
This is our list of recommendations for best speedometers:
Wahoo Elemnt Bolt
Garmin Edge 830
Garmin Edge 1030
Wahoo Elemnt Roam
Lezyne Mega XL
Hammerhead Karoo.
How do cycle computers work?
The method of working of most of the cycle computers are the same: the magnet on the wheel passes through the fork's sensor, sending a signal to the computer. Based on the span of time between the signals and the wheel dimension provided, the computer will generate all the data.
What devices does Strava support?
Strava generally supports a wide range of devices. As long as your device can work with GPX, TCX, or FIT file format and the file can contain workout data, your device is compatible with Strava.
Is Garmin Edge 530 waterproof?
The water rating of Garmin Edge 530 is IPX7, meaning that is is water-resistant. It is suitable for mounting on vehicles, splashes, rain or snow and Incidental exposure to water of up to 1 meter for up to 30 minutes. But it is not good to be used in prolonged or continuous immersion.
And that is the end of my review on the best 22 bike computers in 2021. We hope that you have found your favorite items, and don't forget to come back here later for an updated review. See you again!